Welcome to PADES* Watch in Kennebunk!
* "Precisely Appropriate Decisions
for Ecological Sustainability"
A citizen's resource for information about local habitat, river restoration, and conservation matters in the Town of Kennebunk.
Check in frequently for updates and news.
The Town of Kennebunk has a document called the Strategic Economic Development Action Plan. Its content finds its way into the Town's Comprehensive Plan.
Eight pages into the SEDAP document there are paragraphs that state a goal is "to clearly identify and celebrate the natural resources of Kennebunk and link them to economic development strategies."
Is this a true statement? Does the town hold this tenet dear as it proceeds with its vision for economic development? What about the all-important problem of ecosystem sustainability?
PADES Watch examines the issues.*
What's happening around town that affects our environment, our quality of life, wildlife habitat and pollution?
Comments? Reports? Photos? E-mail to <ai2q (at) ai2q.org>
REPORT (May 3rd 2020)
Significant Vernal Pools Under Fire!
The dual vernal pools (Registered as Significant Pools #539) are still under fire by the Town of Kennebunk. Apparently the Town has sold the property to a developer. However, have reports and studies come in with respect to the pools?
Here's a copy of the letter sent out by the Town Engineer on April 16th, 2020:
The Town had extended the due diligence period when the Phase I – Environmental Site Assessment Recommended further study.
The Town was able to secure the services of TRC through a grant program from Southern Maine Planning & Development Commission (SMPDC). The Phase II study work plan was prepared by TRC and reviewed and signed off on by Alan Peterson the Brownfields Project Officer from USE EPA Region 1.
This work has not yet been completed, so the status of things is a bit unknown at the moment as the Town is a bit in a bit and see mode, but should be wrapped up pretty quickly as they were supposed to conduct field work the last week in March.
I am happy to send a copy of the Phase II report when completed if you would like. If so, please check back around April 30 and send me a reminder – I apologize for this, but it seems I am getting an inordinate number of e-mails and the time to respond (or remember) is not what I would like it to be.
I hope that helps some.
Thanks,
CHRISTOPHER J. OSTERRIEDER, P.E.
Director of Community Development // Town Engineer
Town of Kennebunk
1 Summer Street, Kennebunk, ME 04043
Telephone: (207)-604-1337
Fax: (207)-985-4609
email: costerrieder@kennebunkmaine.us
REPORT (April 16th, 2018):
Mid-Winter Heretics
The Kennebunk Planning Board's mid-winter meeting on January 22nd discussed a proposal for development of a residential property at 61 Heath Road. During its deliberations it was revealed that the Maine Department of Environmental Protection demanded to know if there were any sensitive vernal pool breeding areas on the wetlands.
Peter Cole, the property owner, wants to fill an astounding 3,700-plus square feet of wetlands on the site. According to Town records the developer's attorney claimed he would have a "soil scientist" walk the site in the week following the meeting to determine if there were any vernal pools.
Now anyone who knows anything about vernal pools knows that the only way to verify if they exist is to do a site walk --- but NOT in the middle of the winter!
A search for vernal pools must be done in the Spring, when the wood frogs and salamanders become active egg layers at the pools.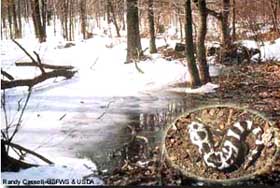 Wither or whither Kennebunk's vital vernal pools? What does the Town's Conservation and Open Space Planning Commission have to say about the 61 Heath Road site?
REPORT (January 9th, 2016):
The Anti-Life "Mudsam" Folks
Some anonymous anti-life anti-environment anti-conservation folks living on or near the Mousam River have their knickers in a twist.
To wit, they've collected a lot of money and ran a full-page 4-color ad (above) in the January 8th issue of the Kennebunk Post newspaper, dubbing the Mousam River the "Mudsam." (These misguided people should've donated that good money to Wells Reserve or Maine Rivers or the Atlantic Salmon Federation or the Sierra Club or Kennebunk's Conservation Commission).
The "Mudsam" is their ill-conceived misguided moniker for their idea of what the river should be called, based on bogus concepts.
For starters, they're attempting to sway public opinion based on the nebulous idea that removal of the Mousam River dams will leave the river devoid of water and fish! This nonsense is depicted in their ad based on photos of limited water flows during Kennebunk Light and Power's recent "drawdown" inspection.
Of course, you idiots!
KL&PD shut off most of the water in order to make their tests.
Removing the dams won't shut off the water flow!
The propaganda advertisement says there will be no fish. Duh. Fish like water. They don't like dams.
Get real. Migratory sea-run fish like to jump and frolic like Puff The Magic Dragon as they propagate upstream to spawn and swim downstream to reach the Gulf of Maine.
As for property values, scroll down to the PADES Watch REPORT below (November 21st, 2015). Read what knowledgeable Maine scientists and river researchers say---not ill informed propaganda ministers.
The "Save The Mousam" folks are blowing smoke up you know where with the full-page ad. What a waste of money. The "Save The Mousam" advertisement should've run in the January 1957 issue. Can someone please remind these folks this is the 21st century?
REPORT (December 2nd, 2015):
Kennebunk Supports President Obama at Global Climate Change Conference
In a surprising move, Kennebunk Town Manager Barry Tibbetts signed a letter to President Obama supporting United States participation in the United Nations Conference on Climate Change, in Paris, France.
The letter was brought to the fore at the November 24th meeting of the Kennbebunk Board of Selectmen by Sierra Club spokesman Bob Wuerthner, a Kennebunk resident and member of the town's Energy Efficiency Advisory Committee.
If you haven't seen it, here's a copy of the letter:
At the selectmen's meeting Wuerthner pointed out that the board had previously approved Kennebunk's support of the Mayor's Agreement on Climate Change, signed on February 27th, 2007 at Town Hall.
At this November 24th meeting one of the selectmen asked why the Town would want to be involved! He stated that he had to "support the opinions" of his constituents! "Opinions?"
"Beliefs" in climate change?
Someone should advise the town's Select Board that science is not a belief system.
In any case, the Tibbetts letter was approved (yippee!), to be sent to President Obama, by a 4-3 vote of the Board of Selectmen.
It makes you wonder about the three selectmen that voted against the letter, though.
Morin .................................. Boothby ..........................Karytko
REPORT (November 21st, 2015):
Whither or Wither Property Values?
The discussion of property values at the recent Kennebunk Light and Power public meeting (see the November 11th PADES Watch REPORT, below) is fraught with preconceived notions not based on fact.
Scientific studies repeatedly show that property values of land adjacent to rivers go up, not down, when dams are removed.
One such study, lead by Dr. Lynne Lewis, Economics Department Chair at Bates College in 2008, looked at houses close to dams compared with houses farther away. The study actually revealed a penalty in property value for being near the Kennebec River in both Augusta and Waterville real estate markets, which was contrary to expectations. On the flipside of the coin, improvement in the Kennebec River after dam removal positively affected property values.
In Massachusetts, a study published in 2009 by the Division of Ecological Restoration, in conjunction with the Department of Fish and Game's Riverways Program and the Wetlands Restoration Program of the Office of Coastal Zone Management found regional benefits.
This study concluded that ecological benefits of river restoration produced positive economic effects, including improved nearby property values.
Similarly, a study published in 2002 by American Rivers and Trout Unlimited indicated that property values usually increase following a dam removal that improves water quality, restores a river's ecosystem, and provides recreational benefits.
Likewise, a scientific study released in 2006 by the University of Wisconsin-Madison's Department of Agricultural and Applied Economics concluded that residential property located in the vicinity of a free-flowing stream is more valuable than identical property in the vicinity of an impoundment, and that shoreline frontage along impoundments offers no increase in residential property value compared to frontage along free-flowing streams.
Again, study after study shows that property values adjacent to rivers go up, not down, or remain the same, when small dams are removed. -- AMM
REPORT ( November 11th , 2015):
Dont forget! Mark your calender. There's a major public meeting at Kennebunk Town Hall auditorium this coming Monday night (November 16th) at 7-PM.
This is a rare opportunity to let your viewpoint on dam removal be known to one and all, and especially to the Board of Trustees who run the Kennebunk Light and Power District (KL&PD).
The three antiquated dams are up for Federal re-licensing, and KL&PD's recent report concluded that removing the dams is the lowest cost option for ratepayers, and the best option for river restoration.
The report is available on the power company's Web site (www.klpd.org).
At Monday's public meeting please testify that you support removing the dams. This is about eco-ethics and eco-responsibility! This is an opportunity to save our beautiful river and restore nature's habitat in our corner of the world.
Do it for these aquatic friends!
ACTION: If you can't attend, e-mail KL&PD's chairman and voice your support for the report's "Alternative 4," the removal of the three dams.
REPORT (30 October 2015):
Chemicals and Cancer in Kennebunk
The World Health Organization classified Monsanto's pesticide called glyphosate as a carcinogen. You can buy it at the hardware store in eye-catching spray bottles marked Roundup.
Back in March, seventeen experts from 11 countries met at the International Agency for Research on Cancer to assess the carcinogenicity of the pesticides tetrachlorvinphos, parathion, malathion, diazinon, and glyphosate (these assessments will be published as Volume 112 of the IARC Monographs, should you wish to research it).
For decades, Monsanto has claimed its Roundup weed killer is "safe." Worse, indentured scientists, many reactionary journalists, and especially paid-off politicians, have regurgitated this corporate propaganda crap.
On the flip-side, dissenting scientists, savvy journalists, and eco-activists have been attacked.
In 1985, the U.S. Environmental Protection Agency stated that "glyphosate causes cancer," but the the revolving door swung once again, and corruption in Washington caused the EPA to reverse its position.
Since then, every government agency charged with serving the public has instead served Monsanto.
Here in Kennebunk, it's been a year or more since the volunteers on the town's Conservation and Open Space Planning Commission presented the Kennebunk Board of Selectmen with a comprehensive document---that could readily be adopted as an ordinance----to ban dangerous carcinogens such as Roundup. You can read the document here as a small Microsoft Word file.
Instead, the Selectmen sit on their thumbs discussing TIF districts, economic expansion, and various and sundry topics that often have little to do with the health and welfare of Kennebunk families and citizens.
In sharp contrast, the town of Ogunquit passed a pesticide ban (with important exceptions, if need be) last year.
Monsanto's RoundUp is linked to:
Non-Hodgkins Lymphoma
Multiple Myelomas
Leukemia
Hodgkins Lymphoma
Soft Tissue Sarcoma
Fibrosarcoma
Synovial Sarcoma
Cancers of the Neck and Oral Cavity
Tongue, Esophagus, Throat, or Thyroid Cancer
Skin Cancer
What is Kennebunk waiting for?
REPORT (20 October 2015):
The long awaited "engineering report" from Kennebunk Light and Power District (KL&PD) has finally been released (for a bit of history, check out PADES Watch Reports for March 15th, May 11th, August 24th, and September 24th, below).
KL&PD's Board of Trustees hired Wright-Pierce, a Maine engineering company, to draft the report. It is now publicly available, but keep in mind that no decision about the fate of the three Mousam River dams owned by KL&PD has yet been made.
KL&PD ultimately must decide, and report to the Federal Energy Regulatory Commission (FERC), by 2017. The power company's FERC license to generate hydroelectric power on the Mousam River expires in March of 2022.
Download your copy of the report (an 886-kbyte .PDF file) and read between the lines.
REPORT (October 9th 2015):
Hoop de doo! The Gooch's Creek Boat Launch Is Open
The public-access boat launch on the private road called Seagrass Lane is finally open. This gives you access to the Kennebunk River for launching non-powered watercraft such as canoes, rafts, inner tubes, sailboards, sailboats, and kayaks.
But (and there's always a but, or is it a butt?) the derned sign on the road's entry point still loudly proclaims that entry is prohibited as it's a PRIVATE ROAD (see the September 9th PADES Watch REPORT below).
Hhmm... how unfortunate if that dire Private Road sign dissuades even one would-be sailor.
Of course, at the actual launch site there's a slick little sign that kindly warns you the paid parking area is up the road a few hundred feet.
And, there are lots of rules posted over there, too.
"Don't launch your boat when the tide is falling as it's a muddy mess down there" (unlike the slick private floating dock a few feet downstream on Gooch's Creek. Gloat over it).
Oh well. The 4-year wait for this launch area to actualize will be worth it for those hardy boaters who figure it all out without getting their feet muddy or paying fines and penalties for trying to have some nautical fun in Kennebunk.
REPORT (September 23rd 2015):
Dam Good Deal
Last week was a red letter day for fish and habitat!
At 11:48-AM on September 18th, the Goff Mill Brook dam was blasted away from a Kennebunk River estuary. With that dam gone, seven miles of habitat is now open for brook trout, migratory fish, and other riverine critters.
The project was coordinated by the Wells National Estuarine Research Reserve, working in partnership with the Sebago Chapter of Trout Unlimited under the latter's Embrace-a-Stream program.
"Goff Mill Brook is now connected to the Gulf of Maine for the first time in 60 years," jubilantly exclaimed Wells Reserve project manager Jake Aman. "Many fish and wildlife species will benefit from this dam removal, including American eel and river herring."
Notably, the dam removal project was also supported by the Maine Department of Inland Fisheries and Wildlife, the Maine Department of Marine Resources, Maine Rivers, and the local Mousam and Kennebunk Rivers Alliance.
Funding and support were provided by The Nature Conservancy, the the Maine Outdoor Heritage Fund, the U.S. Fish and Wildlife Service's Gulf of Maine Coastal Program, and the National Fish and Wildlife Foundation.
Bulldozers to the rescue!
Happy fish!
REPORT (September 21st 2015):
Well, it looks like the Board of Trustees at Kennebunk Light and Power District (KL&PD is your utility company if you're not on Central Maine Power/Iberdrola USA's lines) have decided to enlist NextEra Energy to install and operate a multi-megawatt solar electric installation in Kennebunk. NextEra is a Fortune 200 public company.
If all goes according to plan, NextEra will install photovoltaic (PV) panels and associated DC-to-AC inverters at Kennebunk's defunct old airport along Route One South. The system will sell power to KL&PD.
Tax Dodgers
Not incidentally, Florida Power and Light is a NextEra subsidiary; up until a few years ago NextEra was called the FPL Group.
Note that BusinessWeek Magazine reported FPL dodged taxes.
FPL paid Federal taxes at a measly 1.3% annual rate, which was way less than the standard 35% corporate rate! On more than $7 billion in earnings during a 4-year period not too long ago, FPL Group paid a mere $88 million in taxes. Great American outfit, that FPL Group.
What's In It For You?
On a related note, if a homeowner in Kennebunk installs a PV system with less than a 100-kW-hr capacity, that installation can be net metered. Net metering is a policy that permits utility customers to offset some or all of their energy use with self-produced energy.
Net metering works by using meters that are able to record energy flow in both directions. A net meter tallies how much power is coming from KL&PD if a customer demands power from the grid. That would happen if the household was using more energy than the private solar array was producing.
Net meters also record the energy private PV systems send into KL&PD's grid. At the end of a given period, customers get billed only for the net energy used. Excess energy sent into KL&PD's grid is credited to a customer's account at a retail price. Usually, credits accumulated over a given period ultimately dissolve--- poof! --- to KL&PD's benefit.
Stay tuned. It will be interesting to see how all this green power plays out. Will KL&PD pay a solar-equipped homeowner at the same rate it will buy power from NextEra?
One thing's for certain though; it will make KL&PD's three ancient Mousam River hydro dams very, very obsolete.
REPORT (September 9th, 2015):
The public boat launch at Seagrass Lane plot thickens (see 6 June 2015 REPORT, below).
According to the latest report on the Town of Kennebunk's Web site, the launch is now open! But, there's no boat launch ramp in place, nor are there any automobile parking spaces. Nothing has physically changed in the past 46 months. Nada. Zip.
But wait! There's more!
There's a new hitch.
The Web site now includes a payment form. Yup. A payment is now required to use the non-existent "public" boat launch.
The Web site notice reads:
Welcome to Kennebunk's Seagrass Lane Boat Launch! This site only allows carry in boat access and river (sic). Four parking spaces are available, first come first serve.
The Town requires all Vehicle Parking Stickers to be displayed on the drivers side of the interior dashboard of the registered vehicle. Stickers are valid for one year from date of purchase for the amount of $75 per year.
Good grief, carry-in boaters! The Town wants you to dish up $75 to park there.
But hey, that may be the proverbial "good deal" for the first four lucky registrants. After all, a one-week parking pass at Gooches Beach presently costs $75, and you can get this one that's good for one year. The walk to the beach is a mere few hundred feet down the road.
Any "registered" cars will preclude non-registered automobiles from launching.
What's more, the residents of the "private road" won't be too bothered by seagoing riff-raff.
What a deal!
REPORT (August 31st, 2015):
Preservation is progress
Good news. Opportunity knocks!
The Kennebunk Land Trust has signed an agreement to buy and conserve forever a fabulous parcel of land on the Mousam River. This scenic and pristine parcel, with strong ecological value, comprises no less than 111 acres of beautiful open space. It has a mile of frontage along the river!
According to the Land Trust a sum of $600,000 must be raised by May of next year. Grants have been applied for and community outreach has begun for donations large and small.
For its part, the Town of Kennebunk is sitting on a sum of about $30,000 that is slated for exactly this type of conservation acquisition.
Administered by the town's Conservation and Open Space Planning Commission, the $30,000 in the conservation fund has been dormant for about 20 years---just waiting for an opportunity like this.
Now is the time for the State-sanctioned Kennebunk Conservation and Open Space Planning Commission volunteer board to immediately vote "yes" and allocate this money to the Kennebunk Land Trust, thereby moving this vital conservation and habitat protection effort ahead.
Keep your eye on Kennebunk Town Hall, spread the word, lobby the Conservation Commission dudes, call the Town Manager and the Board of Selectmen, and stay tuned to PADES Watch as news develops.
What's more, donations of all sizes are welcome by the Kennebunk Land Trust. For more information call (207) 985-8734 or e-mail the Land Trust at info@kennebunklandtrust.org.
Don't let this beautiful land fall into the hands of greedy "developers!"
Remember: Preservation is progress.
REPORT (August 24th, 2015):
Disruptive fusion reactors in the sky---and on the ground
Rumor has it Kennebunk Light and Power District is eyeing some property for construction of a multi-megawatt solar farm. If KL&PD's board of directors moves to adopt solar energy, it will hasten a decision to save ratepayers millions by not going forward with attempts to seek Federal relicensing of its three obsolete hydroelectric dams on the Mousam River.
Of course, solar insolation (sunlight from the fusion reactor in the sky) reaches a maximum at hours when consumption is typically lowest. While KL&PD may very well initially be able to source excess electricity from its proposed solar plant to the New England power grid, at some point in time the grid will not be able to parlay the available power to waiting customers.
Other power companies in New England that tie into the grid with their own solar farms will make some sort of local storage mandatory. This was discussed at a recent Sierra Club Climate Action Team (CAT) meeting.
Safe, cost-effective, and reliable
What's needed is storage that's safe, cost-effective, and reliable. Elon Musk, co-founder of PayPal, and CEO of Space Exploration Technologies (aka SpaceX), Tesla Motors, and SolarCity is proposing storing electricity in "smart" wall-mounted flat battery packs that will cost just $3500 and come with a 10-year warranty.
Together, Tesla and Panasonic are dishing up their Powerwall batteries. A pilot Powerwall project is already up-and-running in California. Almost 500 homes there are equipped with 10,000-watt wall-mounted Powerwall packs.
Musk explains that Powerwall units can be combined up to 500 kilowatt-hour capacity, and that can be extended to millions of watts (megawatts) if need be. Skirting peak power demands in dark hours, they store power when it's cheapest, during the day.
"It's a disruptive technology," says Musk. "Like how cellphones displaced landlines. With 160 million power packs we can power the entire United States."
Remember, you essentially pay a higher price for electricity during peak evening hours than overnight when demand is low. Powerwall can store electricity when rates are low and power your home when rates are high.
For commercial companies in Kennebunk that experience spiking load profiles, these products may spell relief from high electricity costs as well (does Kennebunk's SEDAP "plan" discuss that?)
To date, Tesla has received orders for 38,000 Powerwall units. Is KL&PD ready to order? How about Kennebunk residents?
In a related development, students at MIT are experimenting with ultra-powerful magnets that hasten the day when a practical compact tokamak (donut-shaped) fusion reactor might be commonplace. That could shape up as a nearly inexhaustible source of energy, like the sun.
For the technically minded, MIT's magnets comprise rare-earth barium copper oxide (REBCO) super-conducting tapes that can sustain high magnetic fields in compact form-factors, like the sketch here (see the blue man down there?):
The ultra-strong fields are anticipated to make possible the confinement of super-hot plasma (the fourth state of matter) and sustain a fusion reaction, just like the sun! The physics and possibilities are discussed in a paper in the journal Fusion Engineering and Design.
More disruptive technology? Wait and see. This is the 21st century, right? In the meantime, when will we hear from KL&PD about its solar proposals for Kennebunk?
REPORT (August 19th, 2015):
With Kennebunk's Conservation Commission recently decimated by the kneejerk reactions of backwards-looking outgoing selectmen, the Commission's few remaining volunteers continue to abdicate their responsibility.
According to Maine State Law set forth in 30 MRSA Section 3851, the Kennebunk Conservation Commission's primary goal is to protect and promote the natural resources of the Town of Kennebunk and improve its ecological integrity and wildlife diversity.
That goal is explicitly called out in the commission's bylaws. No ifs, ands, or buts. It is spelled out.
Unfortunately, the Commission has miserably failed.
Its members have repeatedly and vociferously rejected any and all motions to work with the Mousam and Kennebunk Rivers Alliance in order to hasten the restoration of the Mousam River to its free flowing natural state. Indeed, one member hob nobs through Town Hall vigorously promoting counterproductive economic development that almost invariably decimates wetlands, riverine habitat, open space, and ecological sustainability.
Duh.
The Commission's Bylaws clearly state in Article 6, Section 3: "The committee shall coordinate conservation efforts with local land trusts and other environmental organizations."
Isn't the Mousam and Kennebunk Rivers Alliance an environmental organization?
Why is there a pervasive and ongoing thrust in the highest offices of Kennebunk Town Hall to thwart efforts to restore the Mousam River to its natural free-flowing state?
Is the MKRA a pariah?
Could the SEDAP "plan" be more important?
Hardly!
Just ask the Mousam's eagles.
REPORT (July 29th, 2015):
Well, thanks to the hooples sitting on Kennebunk's much esteemed Board of Selectmen, and others in Town Hall harboring ideas of expansive grandeur and unbridled economic development, the destruction of Kennebunk's "crown jewels" wetlands has commenced (scroll down to the March 1st REPORT, below, for more details about the "jewels").
Here comes "Commodore's Landing!"
As planned, bulldozers ripped into the Lake Brook wetlands and surrounding woodlands, with complete disregard for the frogs that have been living there for the last few million years. All of the remarkable adaptations and survival tactics of these amphibians failed them in the face of the "developers" and their formidable 'dozers.
More than 21,000 square feet in the Shoreland Protection Zone (!) are being trashed.
The "developers" even have the audacity to post some weird semblences of American flags on their signage on Western Avenue!
This "revolting development" will bring in some tax revenue for Kennebunk's coffers, but after about three years the costs to the town will exceed that income.
So, watch your taxe$ ri$e---a$ the developer$ laugh (at you) all the way to their bank$.
Suggestion: change the moniker for this eco-disaster from "Commodore's Landing" to "Commode Door Landing."
That would be more appropriate, eh?
REPORT (15 July 2015):
Kudos to the Conservation Commission!
The Town of Kennebunk might be making some progress.
At the town's Conservation and Open Space Planning Commission meeting last month (June 15th) it was agreed that the "Conservation Commission endorse restoration efforts of the Mousam River." A motion was seconded to that effect, and unanimously approved.
This eco-victory underscores the pressing need to restore the beautiful Mousam River to its free flowing state.
Removal of the three dinky Kennebunk Light and Power District hydro-dams will enhance the likelihood that alewives, American shad, blueback herring, American eels, and other native fish species---maybe even Atlantic salmon----will once again roam the reaches of the majestic Mousam River, where they will breed and populate the Gulf of Maine with their offspring.
Recall that the Mousam River and its hundreds of miles of tributary streams once provided a seamless connection between upland areas and the ocean. That link existed for millennia!
Then, just a hundred years or so ago, man intervened.
Today, the dams constitute a pitiful encroachment of the river's natural ecosystem and biomass, destroying species and marine-derived nutrients.
The dams break great natural cycles
All of the Mousam's native anadromous fish species are relegated to a very small stretch of freshwater habitat below the first dam in downtown Kennebunk. The Mousam is suffering from the effects of these man-made, nearly useless, dams. Yuk.
It is past time to change course and begin the process of restoring this phenomenal river system. It's past time to halt the lack of biodiversity that is wiping out the river's natural history.
Kudos to the Kennebunk Conservation Commission for making its recommendation!
Now, will Kennebunk's new Board of Selectmen listen to its State-sanctioned Conservation Commission and heed the call?
One of the Select Board's newly elected members (Mr. Shiloh Schulte) has a baccalaureate degree in wildlife biology and a Ph.D in zoology.
There is hope.
Your thoughts?
REPORT (30 June 2015):
Do you remember the fiasco on Great Hill Road (see January 30th REPORT), where the Town destroyed some vital shoreland, and attempted to "restore" the tract?
Kennebunk paid the Maine Department of Environmental Protection more than $3,450 for that little error.
Kennebunk also coughed up another $2,200 of taxpayer money for "replacement materials," and $3,600 more for labor.
Ultimately, the Town Manager publicly assured everyone at a Town Hall meeting that the restoration was complete and all was well.
Here's a photo of the "restoration," taken today. Does it look "restored" to you? What's the story about those rows of dead plantings?
Hhmmm....
REPORT (6 June 2015):
The Circle Game
"And the seasons they go round and round,
And the painted ponies go up and down,
We're captive on the carousel of time,
We can't return we can only look,
Behind from where we came,
And go round and round and round,
In the circle game" -- Joni Mitchell
If you scroll back to the PADES Report for October 16th 2014, you'll be convinced the Town of Kennebunk is dragging its feet.
At that time we reported that the public boat launch ramp at Sea Grass Lane hadn't been implemented.
But, according to today's Chamber of Commerce notation, the boat launch area is open and available.
But, the sign at the entrance to Sea Grass Lane still warns: "Private, No Turning."
Back in October of last year 36 months had elapsed since the Town Planner announced that the boat launch would be open "soon."
We're now now 44 months into the circle game---and the small boating season is upon us---again.
Where is the friggin' boat launch? Why is that insulting sign still there?
Why are we still captive on the Town of Kennebunk's carousel of time?
REPORT (11 May 2015):
A meaningful Mousam River Forum is coming to a theatre near you!
What lies ahead for the Mousam River?
As you may know, Kennebunk Light and Power District, Kennebunk's power company, is exploring options for relicensing its three dams. Many factors need to be considered (refer to PADES Watch Report of April 13th, below).
What's the current health of the river? How much electrical power do the three KL&PD dams generate? Would a "restored river" be an asset for the community?
What are some of the options and the potential costs? Would it cost more to keep the dams or remove them? Who would pay these costs?
Could fish runs actually be restored? What about sediment that may have accumulated in the river?
How might changes affect KL&PD ratepayers as well as abutters and all the residents of Kennebunk?
On Thursday, May 28th, the Mousam and Kennebunk Rivers Alliance, the Sierra Club's local Climate Action Team, and Maine Rivers will be sponsoring a forum to share factual information and provide meaningful answers to of these questions.
The public forum will take place at 7 p.m. in the spacious auditorium at Kennebunk Town Hall. No over-crowded meeting room like at the selectmen's "hearing" where citizens comments were largely stifled.
At the forum, a panel of individuals with experience in river issues will present their backgrounds and "fill in some of the blanks" during the first half of the program. Then a question-and-answer session will continue the discussion.
Unlike the recent "meeting" at Town Hall last month, this forum will accomodate the crowds and feature an open microphone and moderator.
If you wish, your questions for the panelists may even be submitted in advance, via email, to landis@mainerivers.org.
The panelists will include National Oceanic and Atmospheric Administration habitat restoration expert Eric Hutchins, as well as Stantec Consulting Services engineer Michael Chelminski. He has worked on river and stream restoration projects throughout Maine and across North America.
Research Associate Jacob Aman of Wells National Estuarine Research Reserve will also be on hand. Aman has been monitoring the water quality and health of the Mousam River for years.
The Q&A panel will also include John Burrows, Director of New England Programs for the international Atlantic Salmon Federation and a founding member of the Mousam and Kennebunk Rivers Alliance.
The event will be moderated by Dr. Chris Feurt, a professor of Environmental Studies at the University of New England, Dr. Feurt also directs the Coastal Training Program at the Wells Reserve.
For additional details, contact Landis Hudson at Maine Rivers, at 847-9277, or Bill Grabin at 985-3342, grabin@roadrunner.com
REPORT (19 April 2015):
For a number of years diligent volunteers, such as Kennebunk resident Mr. John White, have been locating and studying vernal pools in Kennebunk. These pools are very important, as they're home to amphibians such as wood frogs and salamanders.
Vernal pools with high value for wildlife are dubbed significant vernal pools by the State.
Why are they high-value?
Well, vernal pools are habitat for rare species.
Isolated from streams and fish, they're subject to periodic drying. But, vernal pools provide a nearly predator-free haven for a diversity of very specialized amphibians and aquatic invertebrates that lack the physical and chemical defenses to reproduce in fishy environs.
In addition to amphibians, turtles and snakes frequent vernal pool habitats during their life cycle, as do familiar species such as black ducks, wood ducks, great blue herons, broad-winged hawks, deer, moose, fox, mink, bats and other small mammals.
Maine biologists and sportsmen know that pool-breeding frogs and salamanders play a powerful role in the local ecology. Beautiful migratory birds, for one, rely on vernal pool critters for food.
One of these pools, registered with Maine's Department of Environmental Protection, is located at the Kennebunk Rest Stop on Route One. Originally numbered "Pool 129.09" back in 2009, MDEP now refers to it as "Pool 539."
So, what does Kennebunk's Department of Public Works do every winter? It dumps tons of salt-laden snow at the rest stop---contaminating vernal pool #539, absolutely ruining it for the critters that rely on it!
The photo above, taken today, reveals mountains of dirty snow. Although a lot of the snow piled up there has melted, those piles you see in the background are still twenty feet high.
DPW folks apparently could care less about some dinky frogs and salamaders.
What do you think?
REPORT (13 April 2015):
So, what is the big secret Kennebunk Light and Power is keeping?
Shhhh!
The "open hearing" the power company held at Kennebunk Town Hall on March 31st did very little to keep the rate-payers informed (see the March 15th PADES Watch REPORT, below).
Truth be told, when a citizen directly asked about KL&PD's expensive Wright-Pierce engineering report, KL&PD's new General Manager Todd Shea could only point to attorneys, saying they told him the report must remain under wraps!
Maybe keeping a phalanx of lawyers employed by a consumer-owned utility makes business sense in this litigious day and age, but it flies in the face of previous statements by Todd's predecessor Sharon Staz that the utility would hold numerous open public meetings to keep folks duly informed as the dam removal-or-relicensing process moves forward.
What's with this TOP SECRET report? More importantly, what secrets are the dams holding---or hiding?
Must the public wait another fourteen months for more "numerous" and "open" meetings, only to be stonewalled once again?
Hey, why not ask Todd Shea again (and perhaps again) what's up? Reach him by e-mail: tshea@klpd.org
REPORT (22 March 2015):
The late Charley Reese, a renowned conservative journalist for the Orlando Sentinel, had some cogent remarks about unbridled growth for growth's sake.
In 1997 he wrote: "Growth, in the late 20th century, is the wrong policy in the wrong place at the wrong time for the wrong reasons. .. If the average American really wants to understand how badly he has been taken advantage of by the corporate and government establishment, he needs to realize that hard fact. ..."
Reese explained his reasoning in this editorial. See if this resonates:
Growth - The Greed Of The Few At The Expense Of The Many
By Charley Reese of The Sentinel Staff
Growth doesn't pay for itself.
If the average American really wants to understand how badly he has been taken advantage of by the corporate/government establishment, he needs to realize that hard fact.
The Carrying Capacity Network, a Washington group interested in growth issues, has issued a new report that states: ''The tax burden on existing residents increases because the cost of expanding publicly funded infrastructure and services to accommodate new growth is greater than the tax and assessment contributions of the new residents.''
These additional costs, computed for a number of cities, can range from $4,400 per added person to $18,700 per added person. The difference is the variation in the expense of providing the infrastructure and services. It's much higher, for example, in San Francisco than in Ocala.
The Carrying Capacity report is based on a study, done in Oregon, in which the costs of eight growth-related facilities and services were quantified. These were schools, sanitary sewers, transportation, parkland, water systems, recreation facilities, stormwater drainage and fire protection/emergency medical facilities. There are other costs involved, too, but they were not included in the Oregon study.
Growth, which is cited as the answer to all problems, has always been a win-lose proposition. The winners are people in a position to profit from the growth - builders, bankers, real-estate agents, the news media. The losers are the rest of the existing residents who have to pay for growth. They lose not only money, in the form of higher and higher taxes, but quality of life. They get more crowded roads and schools, more crime, more pollution, more inflated property values, more loss of farmland and more loss of wildlife habitat.
Americans will have to impose a new paradigm on their governments from the courthouse to the White House, and they will have to do it by brute force at the ballot box. They will get no help from the profiteers of growth, who defend growth the way munitions makers defend war.
Local officials will have to realize that the old paradigm puts them on a treadmill. They are short of tax revenues, so they seek growth. But the growth creates a greater need for tax revenues than it supplies. So the local official, doing what he thinks best, never catches up. He finds that, as the need for taxes continuously increases, the quality of the community continuously decreases, and the shortage of infrastructure outpaces his efforts to catch up.
The U.S. population is growing at the rate of about 3 million a year, and 60 percent of that is immigration. We are now at 270 million people. Just 47 years ago, in 1950, we had only 150 million. The Carrying Capacity Network estimates that, if current growth rates continue, the United States will have half a billion people by 2050.
It's quite obvious that we're on the wrong path if we just look around. The United States in 1950 was an infinitely better country than it is today - less crime, less illegitimacy, less taxes, less welfare, less government, less pollution, less crowding, less drug abuse, better schools, better communities, more open spaces. It was so much better in most respects that it seems like an entirely different country to those of us old enough to remember it.
The issue, however, is not whether we can go back to what the United States used to be. We can't. The issue is whether we are going to become a country far, far worse than we are now - a country with far more people, more pollution, more poverty, more crime and more authoritarian government, all in a more degraded environment.
That will happen if we do not build a political constituency that realizes that growth doesn't pay for itself. Growth, in the late 20th century, is the wrong policy in the wrong place at the wrong time for the wrong reasons.
EOF
REPORT (15 March 2015):
As referred to in the previous PADES Watch report (immediately below), there are documents that need to be publicly revealed at the forthcoming meeting of Kennebunk Light and Power District on March 31st.
The KL&PD "report" referred to in the posting below referred to the redacted agreement between KL&PD and Wright-Pierce for professional services. This formerly redacted document has since been published in its entirety by the power company. It is not the report.
What remains to be seen is the actual report, not just the agreement, between KL&PD and Wright-Pierce. Although the Mousam and Kennebunk Rivers Alliance has repeatedly requested this public information, nothing has been dished up by KL&PD to date.
Hopefully that will change on March 31st!
REPORT (10 March 2015):
Here's your chance to find out what's on the minds of the Board of Trustees of your power company!
On Tuesday evening, March 31st, the consumer-owned utility we all know and love as the Kennebunk Light and Power District will host a forum in Town Hall.
The meeting, slated to report the results of a recent river modeling project related to the three hydro-power dams owned by the utility, is open to the public.
Hopefully, KL&PD will host a truly open meeting.
What is the fate of the town's three ancient low-capacity hydro-power dams?
In August of 2014 Kennebunk Light and Power "released" a redacted dam report generated by Maine environmental engineering firm Wright-Pierce.
In spite of repeated requests from many concerned citizens----and KL&PD's statement that it wants to engage in open dialogue with the community----the Wright-Pierce dam report was heavily redacted---and therefore useless.
To this day, for unknown reasons, the engineering report on the three hydro-power dams has been kept confidential. It has only been seen by KL&PD's management and the Board of Trustees, who discuss it in secret executive sessions.
Let's hope that the meeting on March 31st at 7-PM (third floor, Kennebunk Town Hall) will shed some much needed light on the vital issue of habitat restoration and dam relicensing on the Mousam River----and the redacted report.
You may have seen this bumper sticker on cars around town.
Come find out what it's all about!
REPORT (1 March 2015):
Rural Pleasant Setting? Bah!
Well, it looks like the ol' Kennebunk Planning Board couldn't quite feel the passion that some Western Avenue residents felt when they were called upon to make public comments at the February 23rd Planning Board meeting at Town Hall. Click here to view the archived video.
The so-called Cottages at Salt Marsh contract zone, which voters (mistakenly?) approved last year (please review the 22-October PADES REPORT) is therefore closer to actuality.
Regardless of empassioned pleas for restraint by abutting residents, the Planning Board exhaustively examined the details of the developer's "plan" and voted to switch on the green GO! light for a cheap sidewalk (no granite curbstones for these penny pinching developers) on Western Avenue.
Details of the sidewalk's construction, possible pedestrian safety problems, construction schedules, etc. were all neatly put away by the Planning Board, the Town Planner, and the Town Engineer.
Not a single word was said about bio-diversity, ecological impacts, or sustainability to the Lake Brook wetlands.
Tax Implications
Then there are the property tax implications for the rest of us. Little has been said about that!
Some people say conservation land doesn't pay its fair share of taxes. But what will really happen when the Cottages at Salt Marsh contract zone comes to fruition in Kennebunk?
How is an individual's tax bill affected when a town has to pay for the services required for new residential development like the Cottages at Salt Marsh?
The Maine Coast Heritage Trust, and others, have supported several studies on the tax implications of land conservation in Maine and New England. In all sizes and types of towns, its studies consistently show that eventually development always costs a community more than it generates in revenue.
What's more, tourist visitors overwhelmingly agree that outdoor opportunities (such as kayaking and wildlife watching), not to mention rural scenery, contribute to Maine's appeal. Hey, most tourists are here to to get away from subdivision sprawl and sidewalks!
A Less Expensive Option
One of Maine Coast Heritage Trust's reports concludes that conservation of key parcels is a less expensive option than permitting land to be "developed" in a way that won't generate enough in taxes to cover the costs to the town.
In short, population growth never pays for itself. It always encumbers the existing residents with costs. Even if Kennebunk were to collect fees and assessments on this new development, that revenue will not even come close to compensating the town for the actual cost of the population growth. After about three years of new tax revenue, the costs will outweigh the new property taxes.
Higher per capita taxes will be necessary to pay for the shortfalls---and these taxes will be paid by everyone in town---not just the newcomers mothering their pretty new lawns, dousing them with RoundUp at the Cottages at Salt Marsh.
So, kiss goodbye to irreplaceable wetlands at Lake Brook.
No fewer than 14,760 square feet of our wetlands will soon fall to the bulldozers. In all, 21,273 square feet in the Shoreland Protection Zone (yeah, right, a "protection" zone!) will be disturbed---and the Spenlinhauers, Harringtons, et al will laugh all the way to the bank.
REPORT (20 February 2015):
Power Struggle
A lot of folks around town lately have begun scrutinizing how electrical power is generated and distributed.
It started a few years ago when the biggest power company in the state of Maine, Central Maine Power, decided it needed to build out the grid. The idea was to feed power to areas in need of new and refurbished central power stations.
As these proposals by CMP unfolded, an exciting alternative plan, one that could have fundamentally changed the way the state purchases electricity, was in the wind (pun intended) in 2009.
Called the Climate and Energy Planning Act of 2009, otherwise known as the Maine Renewable Energy Sources Act, the MRESA legislative proposal was crafted to reduce reliance on fossil fuels, especially imported oil.
Here's how it would have worked---if it had passed into law:
MRESA would have empowered the state's utility commission to set the rates for renewable locally produced electricity. The rates would have been based on what alternative technology was used, and what the capacity of a given alternative electricity generator was.
MRESA would then have required that the power company purchase all of the clean energy, from each and every qualified renewable supplier.
The act would have mandated a power company contract with homegrown energy suppliers. This contract would have bound CMP and the little guys for a period of 20 years.
The way it works now, if a homeowner in Kennebunk feeds home-generated electricity into the grid, the homeowner is given an energy credit. The credit is then applied to any energy that the user pulls from the grid in the future.
But, home-generated power plant owners never get paid directly for their power contribution. Ask the folks over at the Cocoons Day School on the Heath Road. Its roof is covered with photovoltaic panels.
The plot thickens. At the end of a year or two, even if the homeowner or small business owner supplied more power to the grid than was used in a home or business site---poof---the credit would vanish.
No Electrical Catch-22
The MRESA proposal, on the other hand, was crafted to remove that regulatory green power Catch-22. It was a market-based approach to efficiently produce renewable energy, paying small-scale producers for the energy they add to the grid. The homeowner or small-scale producer actually would have made money to produce electrical power.
Significantly, the legislation was targeted at power primarily from solar systems. It turns out that Maine is at the same latitude as Spain. We enjoy abundant solar insolation (the amount of solar radiation incident on the surface of the earth) year round.
MRESA would have also encompassed wind power. Though Maine has an abundance of wind power, especially in the winter and offshore, the wind usually blows at inopportune times, and when peak demand is lowest. A lot of folks think windmills are ugly and noisy, too.
Nonetheless, if a private wind generator operator wanted to feed the grid, MRESA would have ensured that he or she got paid for the power produced.
MRESA would have extended to hydroelectric plants, too. There are quite a few small hydro plants on rivers in Maine, such as the antiquated dams on the Mousam River.
MRESA could have also purchased electrical energy recovered from municipal waste plants and landfills (old dumps and landfills often vent methane into the atmosphere). MRESA would have also paid producers of electricity from biomass (but not wood) and tidal generators.
Not incidentally, the US Environmental Protection Agency has a Landfill Methane Outreach Program.
The EPA's LMOP is a voluntary assistance and partnership program that promotes the use of landfill gas as a renewable energy source.
All of this comes at a time when electricity rates in Kennebunk are set to skyrocket.
Moreover, producers of coal, oil, natural gas, and nuclear power are being subsidized. Did you realize that more than half of all government energy subsidies go to fossil fuel industries?
Under the MRESA alternative plan, if you had invested in solar, wind, or other renewable technology, you could have actually started a small business (!) providing power to the grid. With the price set by MRESA, you could have actually accurately predicted how long it would take to pay off a loan needed to get your hands on the requisite hardware and do the installation.
Calculate Collector Size
Once you knew your site's insolation level you could accurately calculate collector size and energy output. You could then negotiate a loan from an energy savvy local bank—and there are certainly enough banks in Kennebunk these days. All hands could rest easy, knowing what the payback period would be.
All of this would pay local alternative power producers, rather then sending our money to Nova Scotia (where the natural gas comes from), or (worse) to Saudi Arabia or the Keystone XL grubbers.
Speaking of overseas entities, this type of plan was set into place in Germany not too long ago. In short order, it resulted in the creation of roughly 250,000 energy-related jobs.
Sure, there are tradeoffs in systems of every type, but the MRESA plan just seemed so right, with few, if any, downsides. It's a shame it died in Augusta.
Traditional power companies like CMP usually oppose MRESA-style schemes, calling them feed-in tariffs (the term comes from the German word Stromeinspeisungsgesetz, for electricity feeding-in law). Power companies claim feed-in tariffs lead to higher energy prices. A spokesman for Florida Power and Light, for example, went on the record, stating, "Any law that requires a utility to buy electricity at an artificially inflated price makes no economic sense."
In truth, the German feed-in tariff resulted in explosive renewable energy market growth.
Over the past decades the country has more than doubled its supply of electricity. Other European Union countries followed Germany's lead, and on this side of the pond Ontario adopted a European-style feed-in tariff called the Standard Offer Contract.
Lots of privately owned distributed power sources are obviously less risky than building big centralized power plants, especially in view of today's fossil fuel prices and the cost of the nuclear option. Taken as a whole, diversified distributed sources are more reliable, too.
So, can the Town of Kennebunk and the Kennebunk Light and Power District power company move ahead with a progressive 21st Century plan? Your thoughts?
-- AMM
REPORT (11 February 2015):
A "Growing" Threat?
Included at the Town of Kennebunk's Budget Board meeting of February 5th was a discussion about substituting hand clearing of plant growth, instead of using herbicides (a.k.a. pesticides) on Central Maine Power's high-voltage right-of-way (ROW) in town. This ROW crosses a number of pristine streams.
Comments by Budget Board members, as well as the Town Manager, seem to reflect stagnant 20th century poisonous (literally) thinking---especially in light of the burgeoning instance of cancers in Kennebunk's population.
One Budget Board member indicated using herbicides to suppress undesired growth on the ROW would save a lot of money that would otherwise be budgeted for repeated manual clearing.
Somewhat supporting the argument for the use of herbicides, the Town Manager reminded folks that the chemicals were "State approved."
Keep in mind that the pesticide industry is flooding Maine with its products.
So, are the chemicals, and the procedures for their use, questionable and possibly dangerous?
Most of CMP's chemicals violate the Precautionary Principle outlined by the Canadians, Paul Tukey and others, and reviewed in public forums held by the Kennebunk Conservation and Open Space Planning Commission (KCOSPC).
Indeed, the Town of Kennebunk adopted the Precautionary Principle in its pesticide policy for town-owned lands.
So, what's the big deal?
Well, consider glyphosate, found in products called Roundup, Rodeo, and Pondmaster.
CMP states it's "practically non-toxic to fish" and that it is "relatively non-toxic to bees."
Duh. Do the words "practically" and "relatively" make you comfortable?
The notes for imazapyr are equally disturbing. In Chopper, Arsenal, and Assault, imazapyr lasts for as long as 17 months after application.
According to the published Material Safety Data Sheets (MSDS) it also has high mobility and therefore "is likely to contaminate groundwater." Is it any wonder that the government's own Forest Stewardship Council suggests totally eliminating its use?
The published MSDSs for another compound called aminopyralid say: "There are several uncertainties regarding risk to plants." The notes clearly state one uncertainty is "whether the default assumption of 5% spray drift is sufficiently protective." There is another so-called uncertainty factor. The MSDS states the risk to "wetland plants is underestimated."
Underestimated? Uncertainty?
Aminopyralid is also persistent. The MSDS for it states: "Based on persistence it is assumed this compound has the potential to cause reduced survival, and reproductive impairment, of terrestrial and aquatic organisms."
The Dupont chemical called metsulfuron-methyl, dubbed Ally, Allie, Gropper, and Escort, violates the Precautionary Principle, too. The MSDS says the carcinogenic effects that were studied may not have been at maximum tolerated dosages. It also says the compound has low toxicity for birds.
Hhmmm ... low, but toxic. Poor little feathered friends.
But wait! There's more! For 2,4-D dimethylamine salt, the notes apologeticaly state, in very fine print, "sorry, no water quality standards or criteria have been established for this chemical by the US or Canadian governments." Sorry?
And then there's Bayer's Agridex, also known as Bayfidan, and Folicur. Based on alkylarylpolyoxykane ether (can you pronounce that?) it states that "the electric utility or power company must closely supervise and inspect all protected natural resources during application."
Will CMP "closely supervise" its out-of-state subcontractors, as stipulated?
Click here for more:
Click here to return to home page.
* DISCLAIMER: The opinions, observations, and conclusions herein are entirely subjective. They are public and private observations and conclusions that have no connection whatsoever with the official government of the Town of Kennebunk.